Comprehensive Initial Exams
During our highly interactive initial exam you and your pet will spend up to 60 minutes with our veterinarians. Our veterinarians are trained and certified in animal physical rehabilitation, sports medicine and pain management and will develop an expert diagnosis and individualized treatment plan.
What to expect at your initial exam:
Prior to your exam we will have you complete an Admissions Form to learn general information about you and your pet and a Patient Questionnaire to learn about your pet's condition and behavior.
We will also coordinate with your veterinarian care team to ensure we have all the information on your pet's health.
During the exam our veterinarian will conduct an overall assessment of your pet's condition, strength, and function. They will assess pain level, joint mobility, muscle strength and tone, nervous system function, posture, weight and dietary needs, as well as home environment, lifestyle routines, challenges, and goals.
Our consultation rooms are a calming place. We use soft padded mats, high traction flooring, and low-stress handling to create a comfortable environment.
Individualized Treatment Plans
Your pet's individual treatment plan will include a wide range of physical rehabilitation therapies, in-home exercise plans and products using the most advanced medical tools delivered by our highly trained veterinarians, therapists and support staff.
What to expect during your treatment plan:
Plans are customized to treat your pet's condition.
We have a wide range of therapeutic modalities: therapeutic exercises including hydrotherapy, laser and ultrasound therapy, manual therapies, acupuncture, electrical stimulation and more.
The number of sessions and therapies will be customized to your pet's plan and will include periodic re-checks by the rehab veterinarian to assess progress and adjust plans when needed.
Products to support your pet's plan include pharmaceuticals, supplements and other assistive devices.
You are a critical part of your pet's care team. We will provide you with in-home exercises to complement the in-clinic sessions.
The Best Outcomes
Our goal is to enhance and improve quality of life for your pet in coordination with the rest of your veterinary care team
What to expect after completing your treatment plan: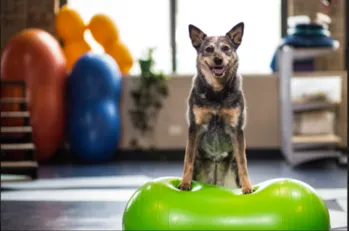 Following the completion of your plan we will ensure coordination with your primary care practice and other specialties on the outcomes of the treatment plan.
We will provide an at-home maintenance program and products to maintain the results of the treatment plan.
We remain here for the lifetime of your pet to ensure enhanced wellness. Don't ever hesitate to contact us.